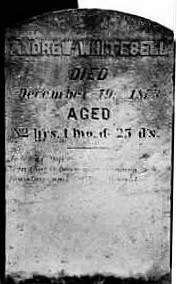 "ANDREW WHITESELL
DIED
December 19, 1873
AGED
82 yrs 1 mo & 25 ds.
Job 14: Man that is born of
woman is of few days and full of trouble"
buried at Oakdale cemetery.


Son of Stephen and Matha (Akars) Weitzel.
Andrew brough his family in covered wagons from Monroe county in 1840.