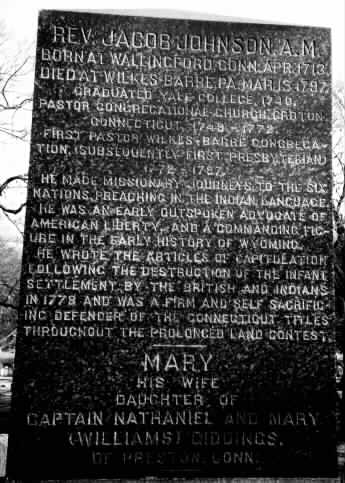 " Rev. Jacob Johnson, A. M.
Born at Wallingford Conn. Apr 1713. Died at Wilkes-Barre PA Mar 15, 1797. Graduated Yale College 1740. Pastor Congregational Church Groton, Connecticut, 1749 - 1772. First Pastor Wilkes-Barre Congregation. (Subsequently First Presbyterian) 1772 - 1797. He made missionary journeys to the six nations, preaching in the Indian language. He was an early outspoken advocate of American Liberty, and a commanding figure in the early history of Wyoming. He wrote the articles of capitulation following the destruction of the infant settlement by the British and Indians in 1778 and was a firm and self sacraficing defender of the Connecticut titles throughout the prolonged land contest.
--------
MARY
his wife
daughter of Captain Nathaniel and Mary (Williams) Giddings
of Preston, Conn.
JOHNSON "
buried at Hollenback cemetery.