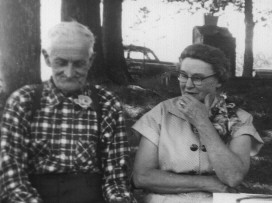 (Click on the picture for music titled "Grow Old With Me")
Ollie and Mary celebrating their 50th Anniversary
This page is dedicated to the family of my great grandparents, Oliver and Mary Bulford Cobleigh.
Oliver William Cobleigh was born in Plymouth August 3, 1882. His parents were George John Cobleigh and Mary Eliza Whitesell.
Eliza was a daughter of John D. Whitesell and Sarah Bronson. The Whitesell family came to Luzerne county in covered wagons, from Monroe county in 1840. The Bronsons had been in the area for a few more generations. They came here from Litchfield county, Connecticut.
George Cobleigh had come to America from England with his father in 1855. The Cobleighs settled in Plymouth. George worked in the mines at Plymouth where he once was caught between two mine cars. After this experience he chose a new career.
In 1885 the Cobleigh family moved to Lake township where George Cobleigh had purchased ten acres of land from his brother-in-law, Ira Whitesell. George began to clear the area. He built a home for his ten children and began to farm the land. Ollie later developed dyptheria and was left hard of hearing.
Mary Ann Bulford was born December 5, 1887. Her parents were Nash Foster Bulford and Augusta Snyder. Their farm was in Loyalville. Times were hard on the farm and for a time Mary lived with her maternal grandparents, Reuben and Mary Davis Snyder. Reuben had served in the Civil War. His father, Henry Snyder had come here from Monroe county about 1845.
Nash Foster Bulford was called "Fos". His parents were John Jacob and Rachel DeLong Bulford of Dallas. Both these families had been in the Wyoming valley for many years. Rachel's father was the first carpenter in Luzerne, Jonas De Long. John Bulford's great grandfather was the Rev. Jacob Johnson, first settled minister in the valley in 1772.
The family legend holds that when Mary was born George Cobleigh brought his son to visit their neighbors and congratulate them on their new addition. Mary was wrapped in a warm blanket and placed in Oliver's arms. "This, Oliver, will be your wife." They married seventeen years later.
Ollie Cobleigh married Mary Bulford June 6, 1905 at Luzerne. He stood "straight as a ramrod". His only adornment for this special day was a "Woodsman of the World" pin in his lapel but he wore an "uncommonly beautiful ruffled front shirt". Mary made it a point to go into town, Dallas, Pa., to buy a "fancy new hat" for the occasion.
Their early married life was in Loyalville. Mary stood only five feet two inches. She was a woman of great strength, spiritual and emotional. Mary was an accomplished quilter. She was always nurturing of her children and grandchildren.
The Cobleighs had three daughters and a son, George who died of pneumonia at age sixteen. In 1915 the family moved to Huntsville. During this time Ollie worked as caretaker on the Posten farm. Around 1917 the family moved to Hanover township where he ran the Posten's "pig farm" near what is now the Wyoming Valley Country Club. Despite the move, the family attended Sunday school at the Huntsville ME Church riding in a horse and buggy.
When Mary would talk about her daughters she often said, "When company was coming, Alice ran for the kettle, Vi ran for the broom and Pat ran for the mirror." The eldest daughter, Pat, married Richard Donald Evans. Violet married Joseph Rodda. Alice married George Shotwell. About 1930 Ollie and his son-in-law, Joe, worked in the lumber industry in Millville, Columbia county. It was during this time that Ollie suffered a broken leg when a tree fell on him. He walked with a limp after this incident.
In the mid-1930's Ollie and Mary moved to Pocono Pines, Monroe county. Here Ollie managed the Goeringer tree farm. Oliver Cobleigh died July 4, 1960. Mary moved in with her daughter, Alice and continued to hold family reunions until her death in 1976.